Absolutely the right time for ADMG to stage its upland deer management event at Scottish Parliament
The Association of Deer Management Groups (ADMG) staged an event at the Scottish Parliament on 3 March 2020 hosted by Stewart Stevenson MSP and titled Upland deer management. The voluntary approach: rising to the challenge.
The event was held following the most recent SNH review of deer management published in November 2019, and the report of the Scottish Government appointed Deer Working Group earlier this year. A key objective of the event was to help to inform MSPs, officials and others about the significant progress made by Scotland's upland Deer Management Groups, and the objectives of ADMG going forward.
The event was attended by around 50 representatives of the sector including DMGs, SNH, Forestry and Land Scotland, and other organisations and NGOs including the Woodland Trust (representing Scottish Environment LINK) involved in upland deer management.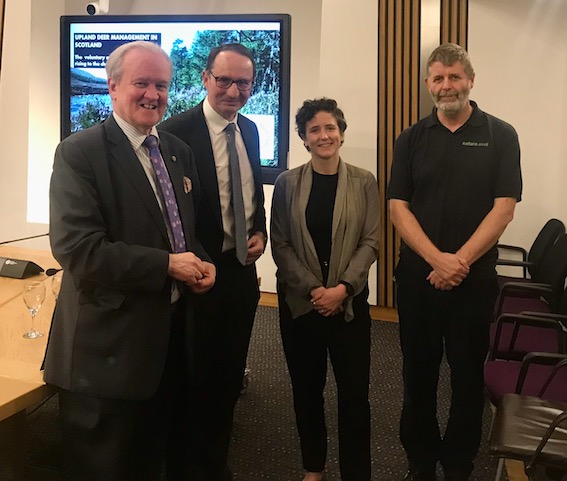 Speaking afterwards Richard Cooke, Chairman, ADMG, said:
"This was exactly the right time to hold this event given where the upland deer sector is right now in terms of review, in being alert to the climate emergency announced last year by the First Minister and in promoting the positives to our membership going forward, and the measures that they can deliver. The remit of voluntary deer management in our uplands is changing, and has changed significantly in the last 20 years, but DMGs are now in most cases best placed in upland areas to deliver the work on the ground to address the climate challenge – peatland restoration and woodland planting and regeneration for example – with many already doing so.
"I am grateful to Marie Gougeon MSP, Minister for Rural Affairs and the Natural Environment, for taking the time to come and talk to us, and also to her MSP colleagues who attended for taking an interest. Thank you also to Stewart Stevenson for his part in making this important event happen."
Rural Affairs Minister Mairi Gougeon said:

"There is no doubt that considerable progress has been made in Scotland with deer management plans, habitat assessment, training for recreational stalkers and protection of the public interest generally.
"We are all aware that more remains to be done to ensure that our natural environment is resilient. This event was a good opportunity to discuss the issues we face and how together we can help tackle climate change through nature-based solutions such as tree-planting and peatland restoration.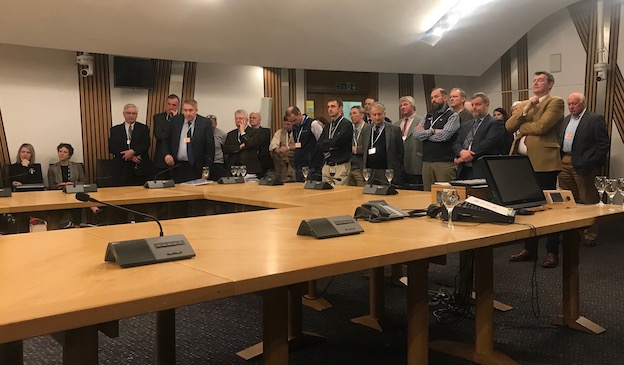 Ross Johnston, Deputy Director of Sustainable Development, SNH, who also spoke at the event, said that SNH recognised the value from progressive, collaborative approaches to managing deer and the benefits that the best performing DMGs could deliver for people and nature. Also, that SNH recognised the significant efforts made by DMGs in delivering improvements identified through the assessment process and that those SNH staff involved saw this on the whole as a positive and constructive exercise. Looking ahead he said;
"This is happening at a time when approaches to regional land use planning are being developed, post EU exit funding and future agricultural support is being considered, and when natural capital approaches are becoming more advanced. These are all potentially significant in how Scotland's land and deer are managed in the future. Deer managers should be alert and consider making the case for support for sustainable deer management as future funding schemes are being shaped."
Speaker notes from the event are available via these links:
Marie Gougeon MSP, Rural Affairs Minister
Richard Cooke, Chairman, ADMG
Ross Johnston, SNH