The Islay Deer management Group covers the hill area in the south east of the island, a relatively small area of approximately 14,000 ha. The DMG area is surrounded by a strategic deer fence, and holds an exceptionally stable population of just over 2,000 deer. Islay is mild and the climate fairly benign, and the hills are very fertile, and this leads to high deer productivity, with the animals much larger than in many mainland areas.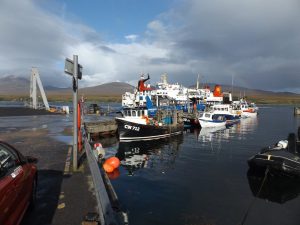 The Islay DMG is one of the older deer groups in Scotland, being set up in 1963, and is very effective at maintaining a stable herd. Data collection within the group is almost certainly the best in Scotland, with information being collated and reported on an individual animal basis.
There is one significant designated site within the area, and there is a small population of fallow deer towards the south of the DMG area. All of the five main owners graze sheep and/or cattle and run very diverse and integrated businesses, of which deer are an essential component. The area is very much part of the overall, local mixed economy.
Islay DMG Deer Management Plan

The Group is currently upgrading its Deer Management Plan, with a draft available for consultation between mid February and 15 March 2019.
Comments relating to deer management on Islay are welcomed and these should be addressed to Victor Clements who is co-ordinating production of the deer plan.
E: victor@nativewoods.co.uk
T: 01887 829 361
Deer Management Plan documentation
Islay DMG background information and policies document
Islay DMG Working Plan
These two draft documents have yet to be finalized before publication.
DMP appendices
Islay DMG Constitution (draft to be ratified in summer 2019)
Islay DMG deer cull information
Islay DMG broad habitat data
Islay DMG Population Model
Maps
DMG location
DMG members
DMG management objectives
Islay designated sites
Islay woodland creation
Islay native woodland herbivore impact
Ardtalla Management Activity Map
Islay deer – vehicle collisions
Islay habitat monitoring
Islay deer density 2018
Other information
Islay larder sheets – females
Islay larder sheets – males